SALE!
🔍

Hard Iron Mission Pump 8x6x14 with Explosion-Proof Motor
SPECIFICATIONS:
• Model: 8X6X14
• Capacity: 240-260 m3/h
• Head: 28-33 m
• Impeller diameter: 9-14 inch
• Power: 55/75 kW
• Materials: Hard iron, Cast iron, SS.
Description
Sandman™ China hard iron Mission pump 8x6x14 with explosion-proof motor, and the pumps are packaged on skid type units which allow for easy removal and transportation from site to site.
Sandman™ can unitize a pump, engine, motor, and gearbox into a complete turn-key packaged pumping system for handling drilling mud.
Tobee® Mission Magnum I Pumps are proven as reliable, heavy-duty, low-cost slurry pumps. The 3×2×13 through 8×6×14 pumps all feature the same power end, which ensures production and reduced spare-part inventory requirements. The Mission MAGNUM I has been engineered for the toughest jobs in drilling, production, well-servicing, and industrial applications. The MAGNUM I is more powerful, more durable, and easier to maintain than any conventional pump in use today.
The Magnum has an open impeller design that contains wide-tipped vanes and a more tangential circumference of the suction allowing the pump to create a smoother flow pattern when handling abrasive fluids. The Magnum is available in Magnachrome™, hard iron, stainless steel, and aluminum bronze fluid ends. The pumps can be unitized with electric motors, diesel engines, and hydraulic motors (horizontal, vertical, or close-coupled configuration).
Also available, Horizontal and Vertical Close Coupled Magnum.
SPECIFICATIONS:
• Sizes from 3x2x13 to 10x8x14
• Flow rates from a few gallons per minute up to 2,600 GPM
• Head pressure up to 550 feet
• Best utilized for applications requiring up to 200 HP
Design Features:
• Up to 50% more capacity from the 8 x 6 pump
• Optimum pressure at low operating speeds
• Thicker casing to extend life from wear and corrosion
• New impeller design to reduce loads and extend bearing life
• Larger, stronger shaft to reduce deflection
• Replaceable shaft sleeve in packing wear area
• Larger, long-life bearings
• Replaceable stuffing box cover
• Smoother, non-turbulent flow throughout casing
Typical Configurations:
3x2x13       6x5x14
4x3x13       8x6x11
5x4x14       8x6x14
6x5x11       10x8x14
Typical Applications:
• Mud pumping – offshore/onshore
• Solids control
• Dredging
• Leveling or Rig Platform (ballast)
• Barite, ferric oxide, and mineral oil
• Base drilling muds
• Glass fibers
• Sugar processing
• Ash or coal conveyers
• Cement
Mission Magnum I Pump Parts List :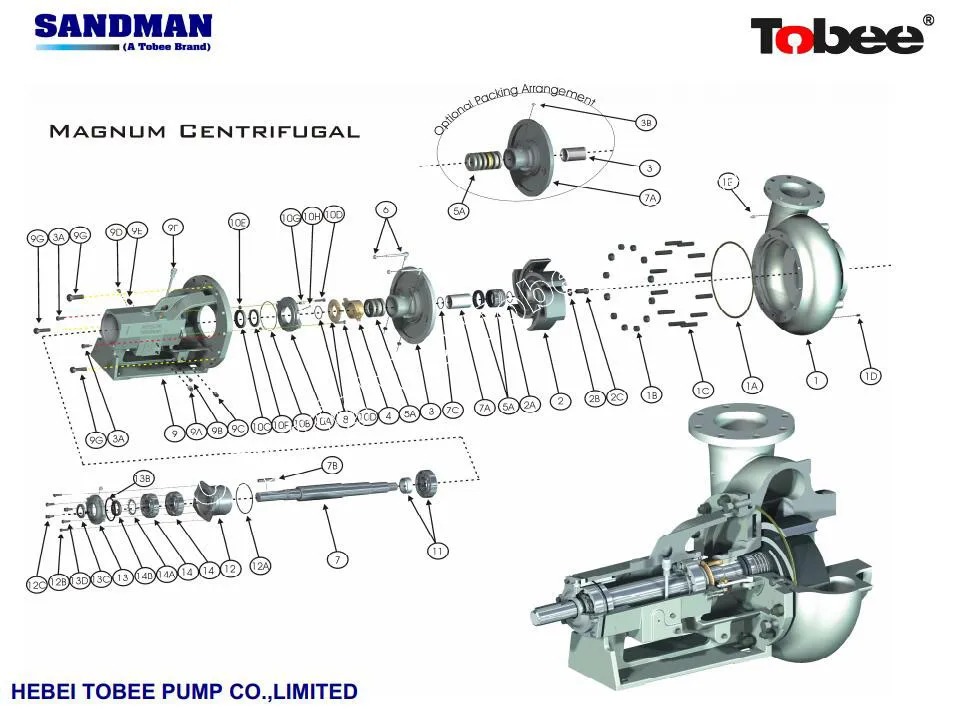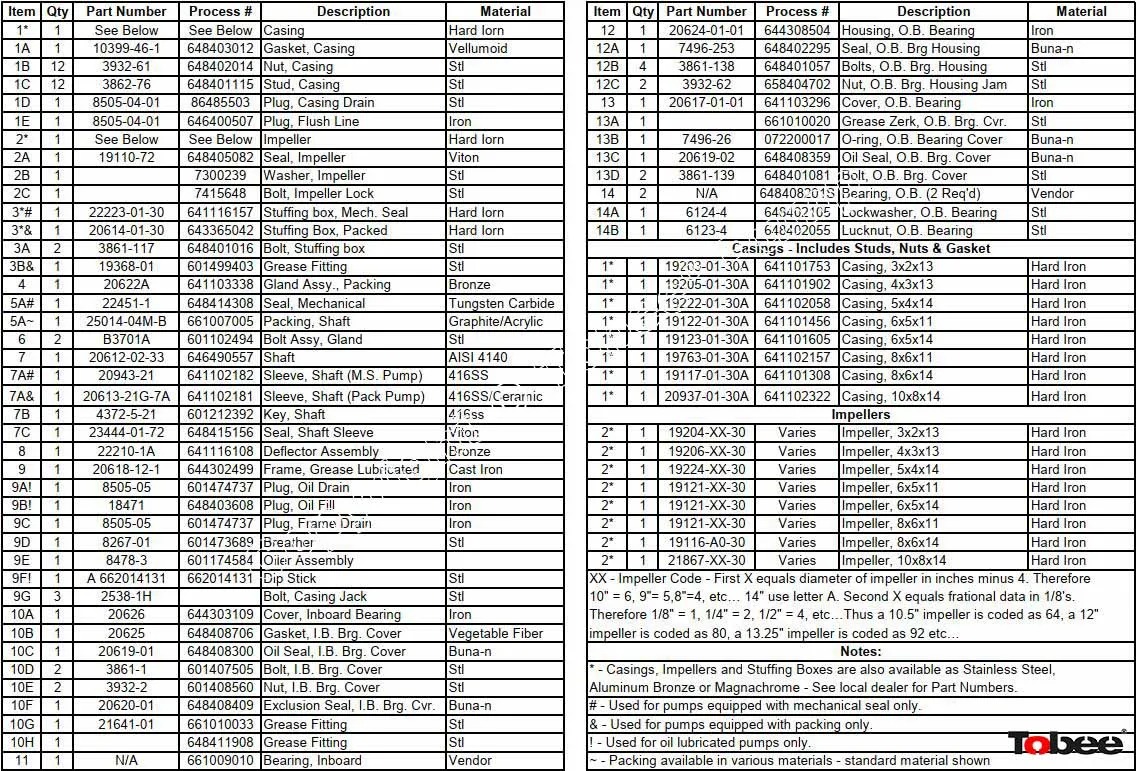 Mission Magnum I Pump Applications:
Mission centrifugal pumps can be used as Frac discharge pump, Frac suction pump, Oil drilling centrifugal pump, electric centrifugal transfer pump, Skid mounted mixing pump, Transfer pump, Trash pump, Grinding pump, Circulating mud pump, Centrifugal sludge pump, Drilling fluid centrifugal pump, Horizontal directional drilling pump, Denver pump, Filling pump, Feeding pump, etc.
Mission Magnum 8x6x14 Pump Performance Parameters:
Model
Impeller

dia.

Speed

(r/min)

Capacity

(m3/h)

Head

(m)

Efficiency

(%)

NPSH

(m)

Power

(kw)

8x6x14
14''
1450
260
28-33
65
4.5
75
13''
1450
250
28-33
65
4.5
75
12 1/2''
1450
240
28-33
65
4.5
55
12''
1450
240
28-33
65
4.3
55
11''
1450
220
28-33
65
4.0
55
12''
1750
240
28-33
65
4.3
75
11''
1750
220
28-33
65
4.0
75
Additional information
| | |
| --- | --- |
| Weight | 280 kg |
| Dimensions | 100 × 75 × 80 cm |